Its that lovely time of the month where I hop with all my gorgeous Around The World On Wednesday friends! I am always so inspired by their creativity and joy of crafting. This months Blog Hop theme is to CAS(e) something we love in the NEW Mini & Sale-A-Bration catalogues!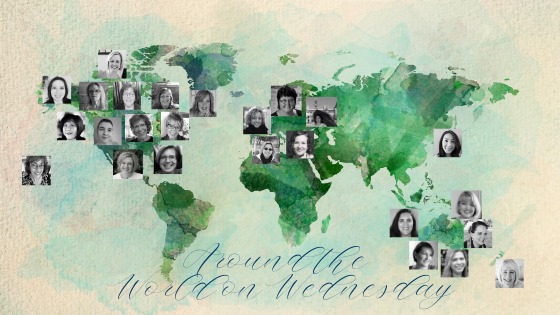 Our Family live just a few short minutes from the beach and I tend to find myself there most days strolling along the foreshore searching for unusual shells and watching the turtles hatch. Other then my craft room its one of the my favourite places to be and lets be honest there is no better sound in the world then the lapping of the waves onto the shore ……other then the beep, beep of the horn announcing the arrival of the postie delivering my boxes of Stampin'Up!
So when I first laid eyes on The By The Bay Collection I knew it was the set to share with you today!The stunning suite creates the perfect waterfront panoramas and replicates the peaceful feeling of being at the beach.
I loved how Stampin'Up! created this gorgeous gift tag and decided to CAS(e) it! I wanted to show you that even if you see a tag in any of the catalogues that it can easily be recreated into a card front.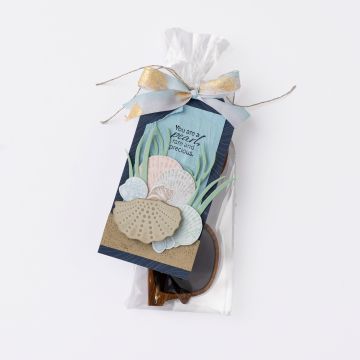 This Suite is so beautiful and I ended up using every part of the collection to create this card. I have layered Night of Navy card stock with the stunning By The Bay Designer Series Paper. The shots of gold reminds me of how the sun catches the waves and the Blamy Blue & White Ribbon is so like the waters edge going from blues to frothy white and there was no way that I would miss out on adding those gorgeous Flat Adhesive Backed Pearls as they add that little touch of luxury.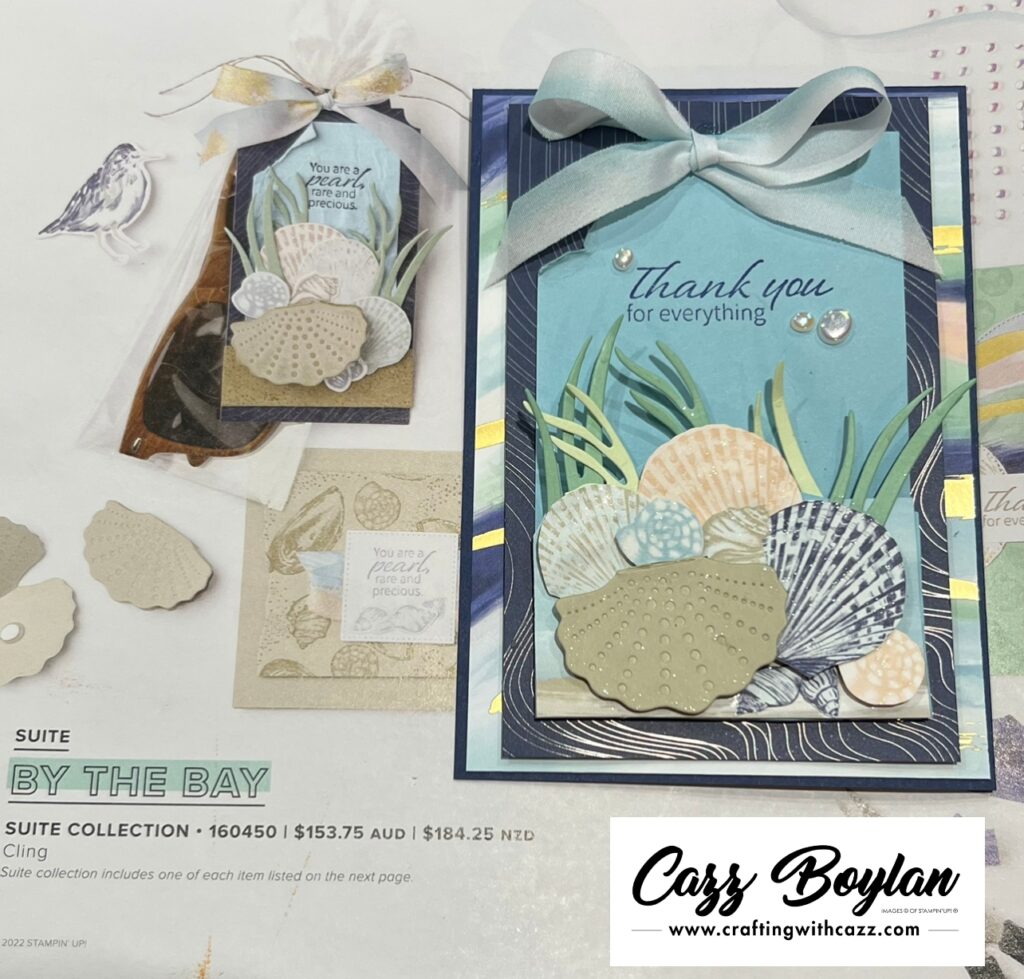 These stamps and dies in this beautiful suite are created to work together seamlessly to create images and build scenes that evoke the tranquil peace that only comes from being near the water. Stamp then quickly die cut images of sand, seashells, water-loving birds, pearls, and more! Pair the images with one of three sentiments for heartfelt cards and gift tags everyone will love.
The entire By The Bay Suite Collection is ONLY $153.75 which includes the Seaside Bay Stamp, Seaside Bay Dies, By The Bay 6×6″ Designer Series Paper, Balmy Blue & White Ribbon and the Flat Adhesive Backed Pearls! Imagine all of the gorgeous coastal scenes you can create with this set and don't forget right now its Sale-A-Bration so that means you will qualify for a FREE product from the SAB catalogue.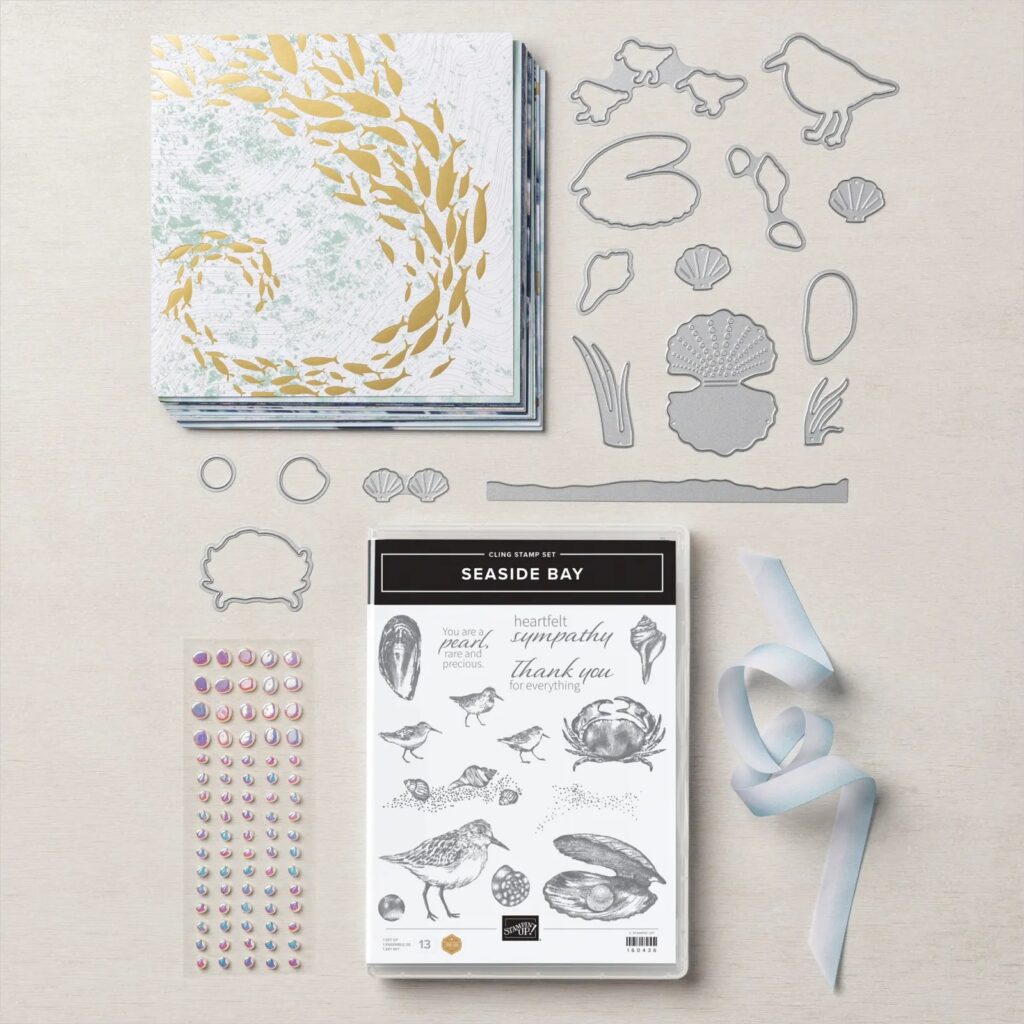 I always love to create a 3D bag or gift box to match all of my cards. The only issue I had was deciding which of the fabulous Designer Series Paper to choose from when creating it as all the prints coordinated beautifully. This darling little box will be perfect to add some seashell shaped chocolates for a very dear friend.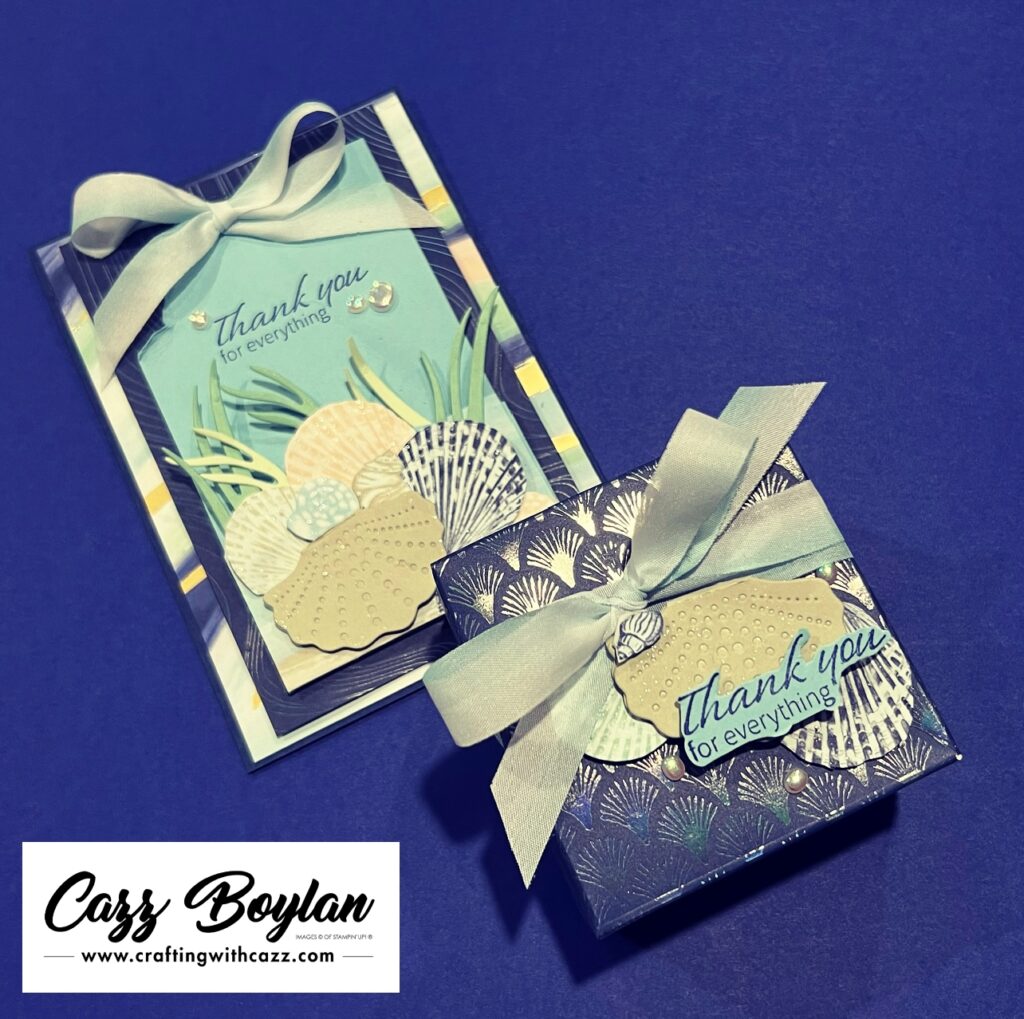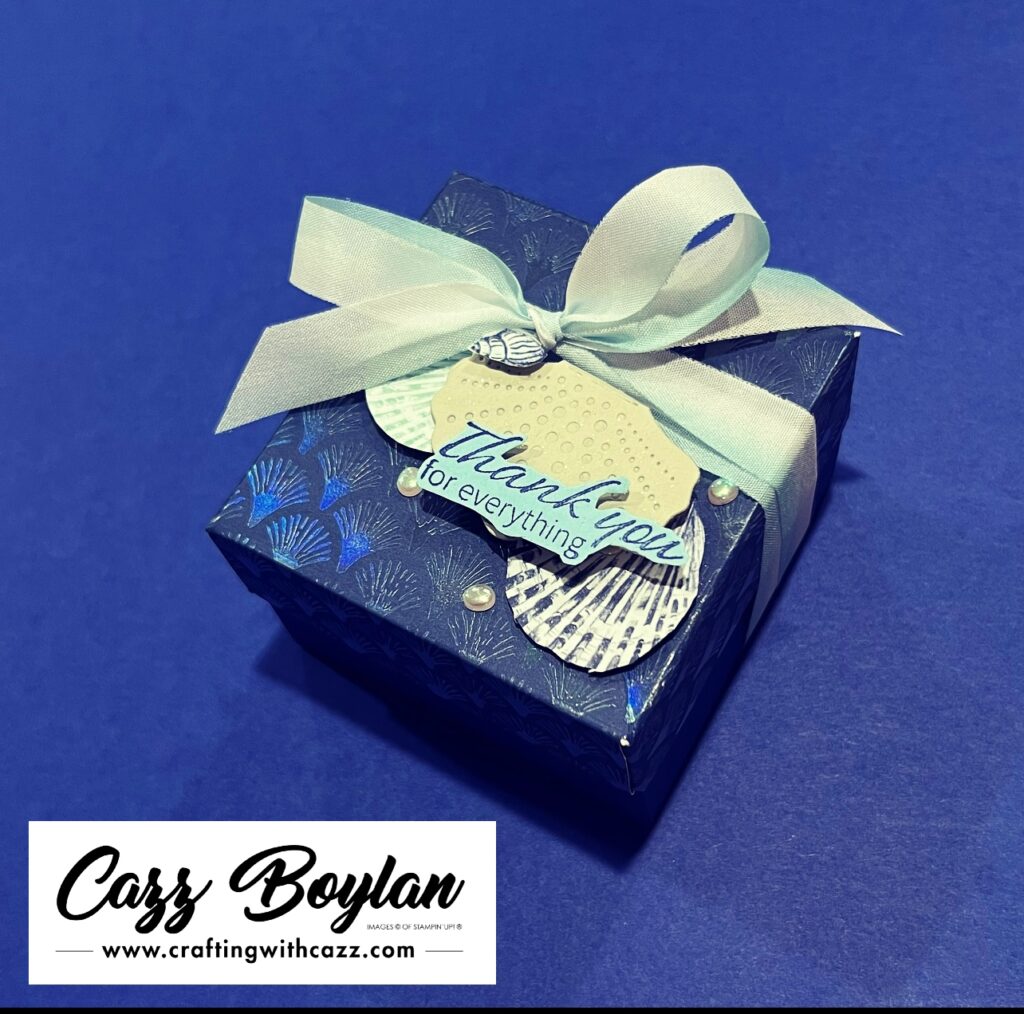 Now I should mention that right now its Sale-A-Bration time which means YOU get rewarded for spending in my store!
Thats right for every $90 you spend (before postage and handling) you can choose from the special Sale-A-Bration products!
So If you love this Bundle as much as I do then add it to your cart today, I will have everything listed at the bottom of my blog for your shopping convenience!
Now hop on over to see what my beautiful and talented friend Cheryll Miller has created!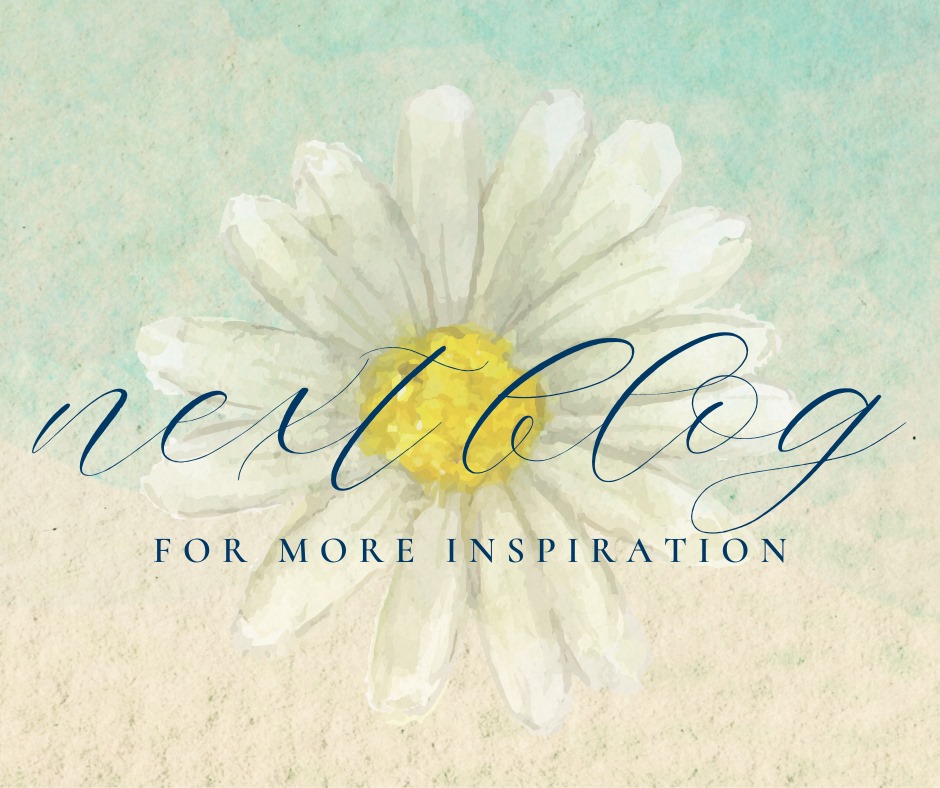 Cazz Boylan – AU YOU ARE HERE!!!
Happy Stamping,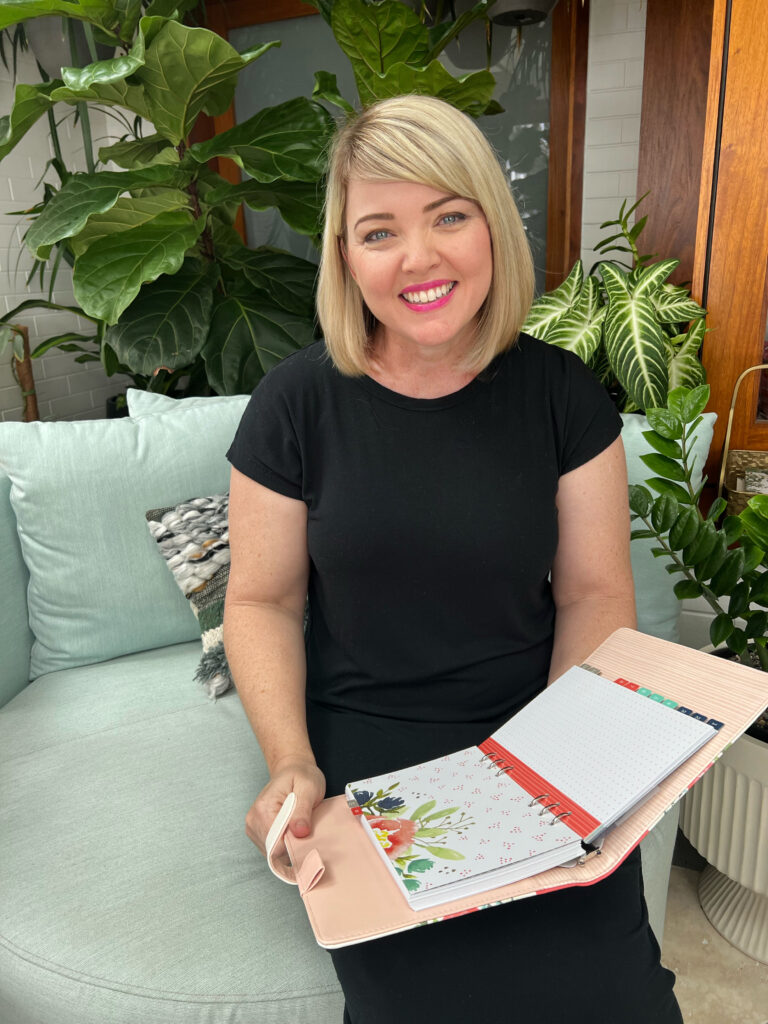 Love Cazz x
Product List
ITS NEVER BEEN EASIER OR MORE REWARDING TO JOIN MY FABULOUS TEAM!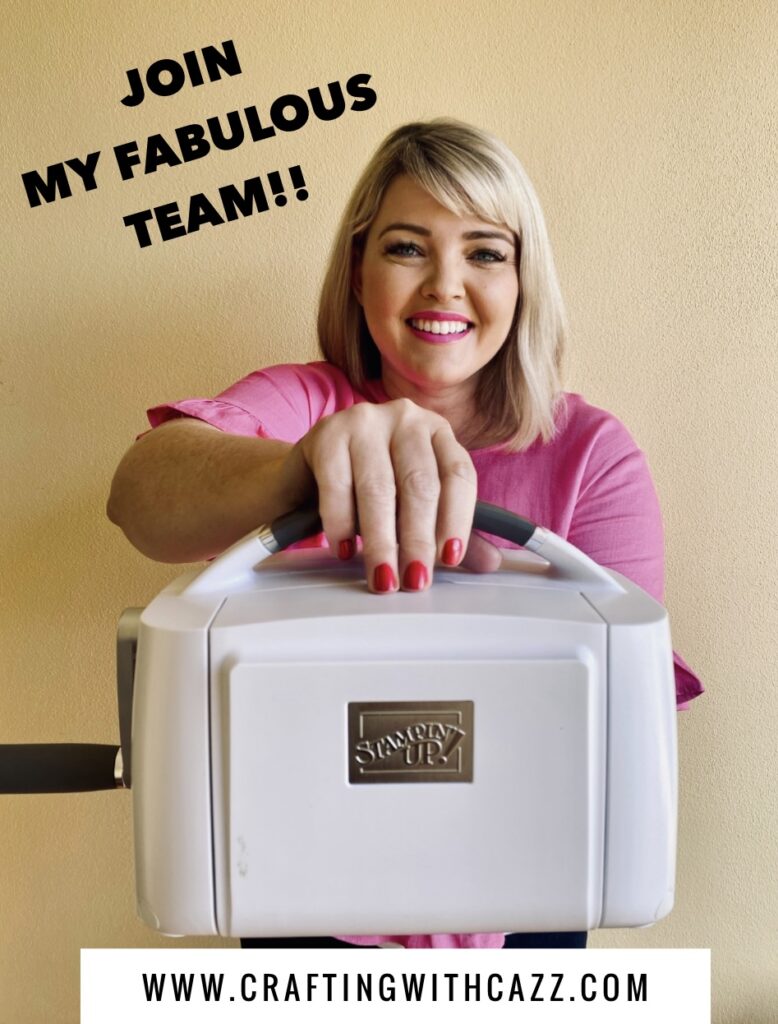 As part of the Sale-A-Bration celebrations you have the choice of purchasing the Starter Kit for $169 and choose $315 worth of Stampin'Up! products of your choice! Thats a whopping $146 worth of FREE product!!
OR MY FAVOURITE OFFER
Purchase the Starter kit for $210 and get either the FABULOUS Boho Blue or the original white Mini Stampin Emboss Machine Mini (valued at $133) PLUS $315 worth of Stampin'Up! products of your choice! Thats the fabulous Mini plus an extra $146 worth of FREE product! Amazing right?
You will also gain early access to all new products, new catalogues plus get sneak peaks and form crafting friendships. Stampin'Up! is dedicated to connecting creative individuals, encouraging creative experiences and helping others all whilst enjoying the benefits of 20 % discount off your future purchases.
COPYRIGHT & DISCLOSURE
All images are copyright of Stampin' Up!® 1990-2022 (unless otherwise stated). All content is the sole responsibility of Cazz Boylan as an Independent Stampin' Up!® Demonstrator and the use of and content of the classes, services, or products offered on this web site is not endorsed by Stampin' Up!® All cards and items on this web site are for your personal use, inspiration and enjoyment only and may not be copied for publication or contest submission. Thank you.