Welcome to the Around the World on Wednesday Design Team's October Blog Hop. My name is Cazz Boylan from sunny Queensland, Australia. Around the World on Wednesday has been created by my friend Angie McKenzie. It is such a delight to be hopping each month with these amazingly talented demonstrators from all around the world.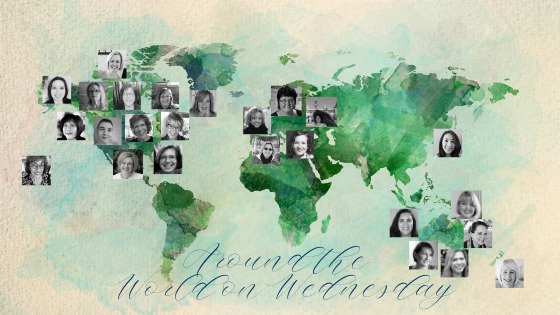 This months theme has a specific focus on what is happening around you! Yours truly has been spending lots of time in the craft room! I have cleaned it from top to bottom to celebrate the beginning of the new Stampin'Up! year.
Can you see that window in the background it gives me a sneak peak out to my vegetable garden! There is nothing more magical then seeing something grow from start to finish!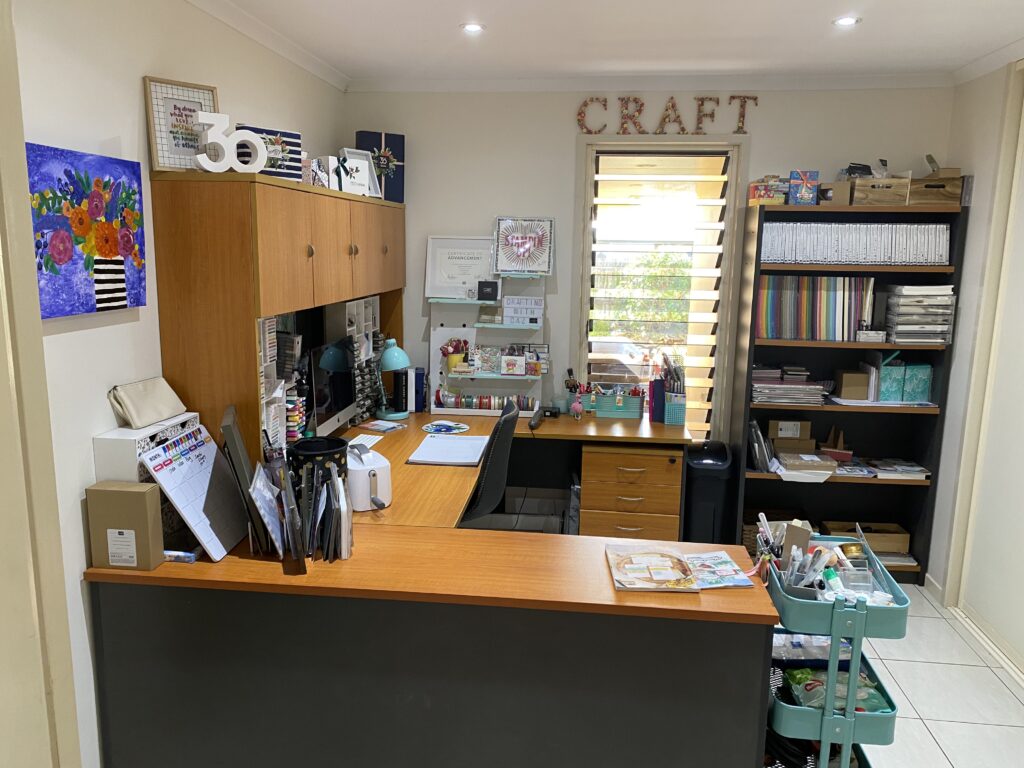 From my office chair I can see this little beauty peeking out at me. Check out those beautiful colours!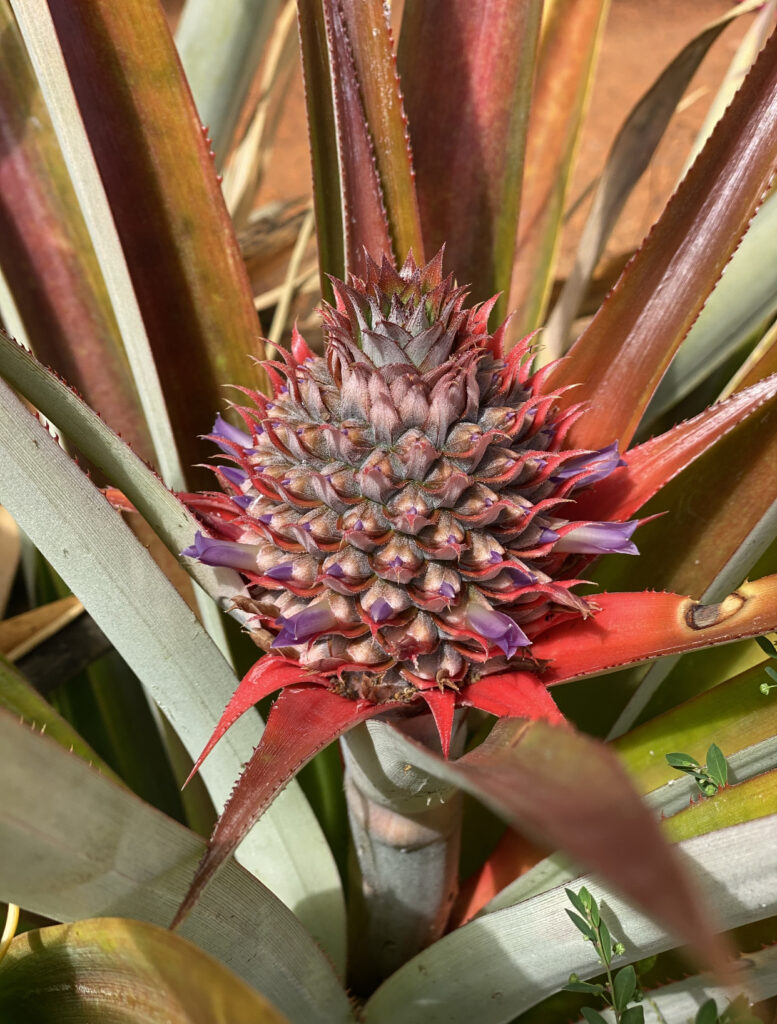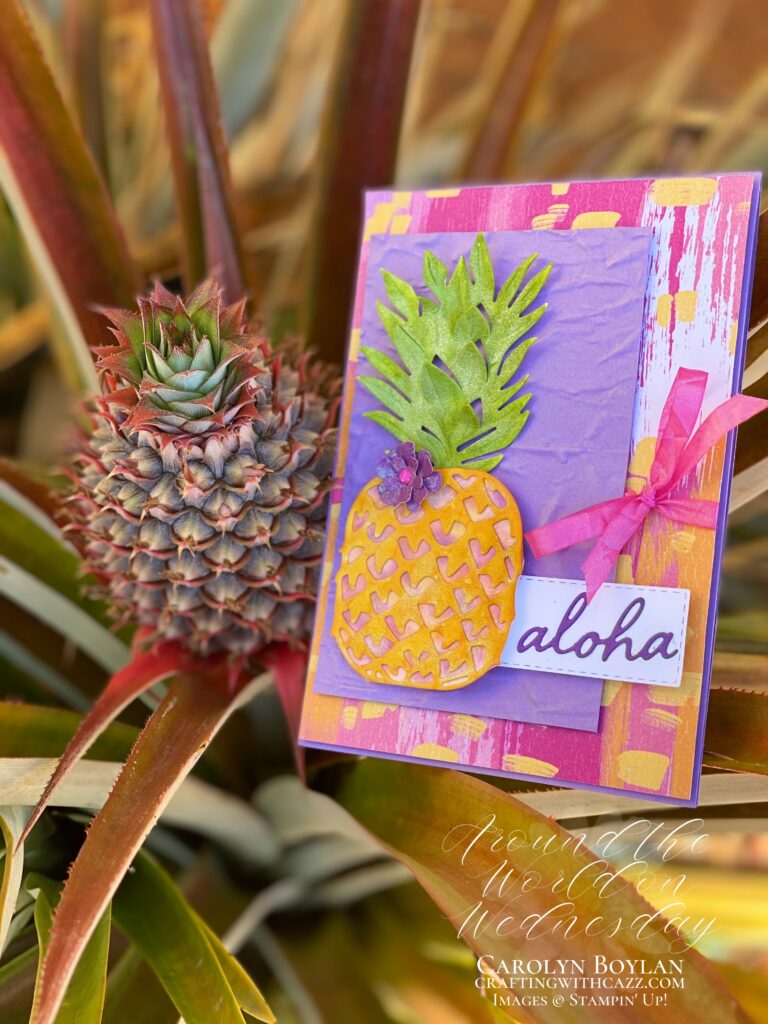 The Timeless Tropical Stamp set and In The Tropics Dies were perfect for this project!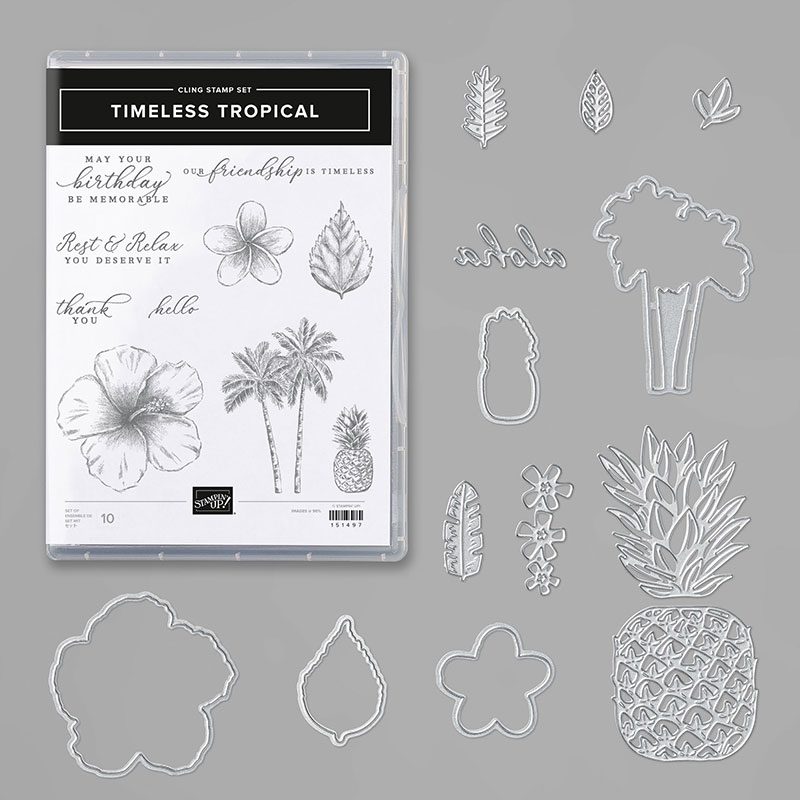 Who would have thought that a sunny yellow pineapple could throw hues of pinks purple. I teamed up the Fluid 100 Watercolour paper and our fabulous Water Painters with Gorgeous Grape, Crushed Curry and Calypso Coral to try and replicate some of those pretty tones.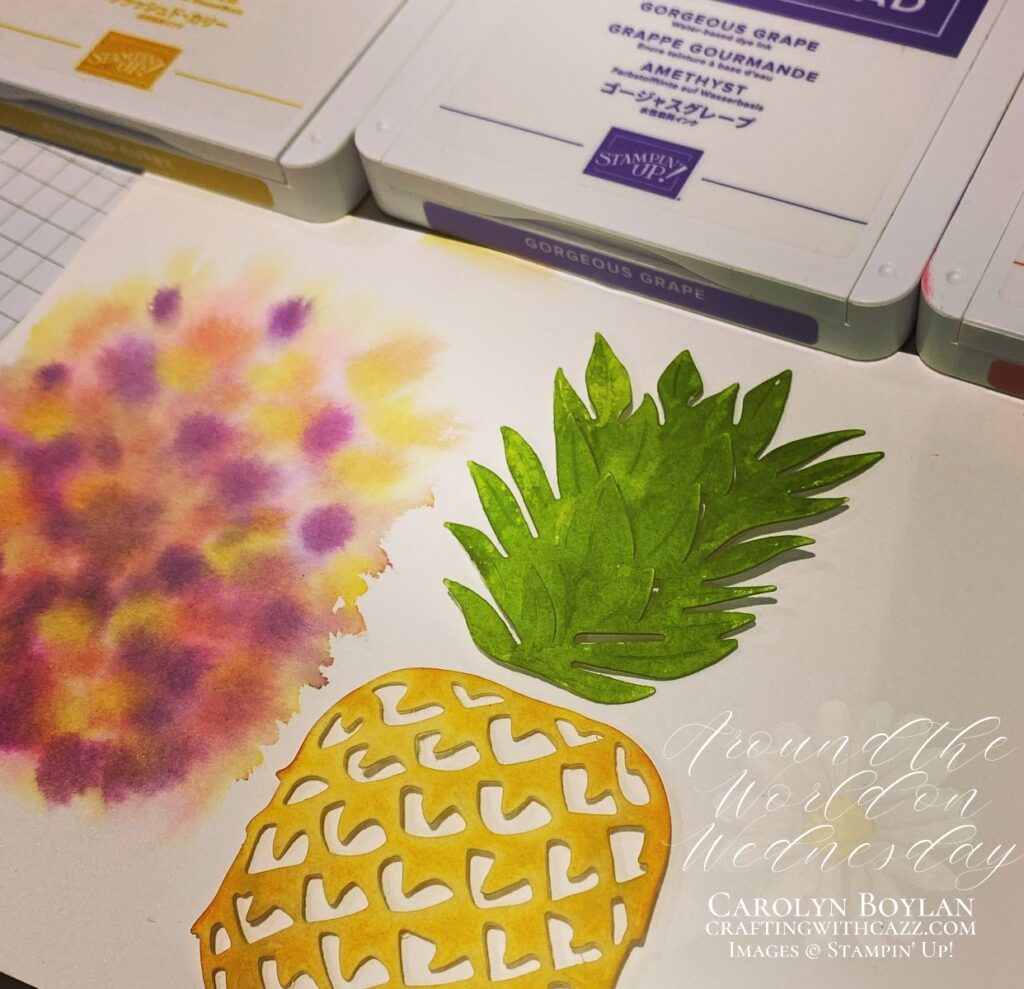 I then decided to colour my ribbon to match my card! Its oh so easy, just use a piece of grid paper and colour in your ribbon with any shade of Stampin'Blend you like! This is the perfect way to colour coordinate with any card or project you create!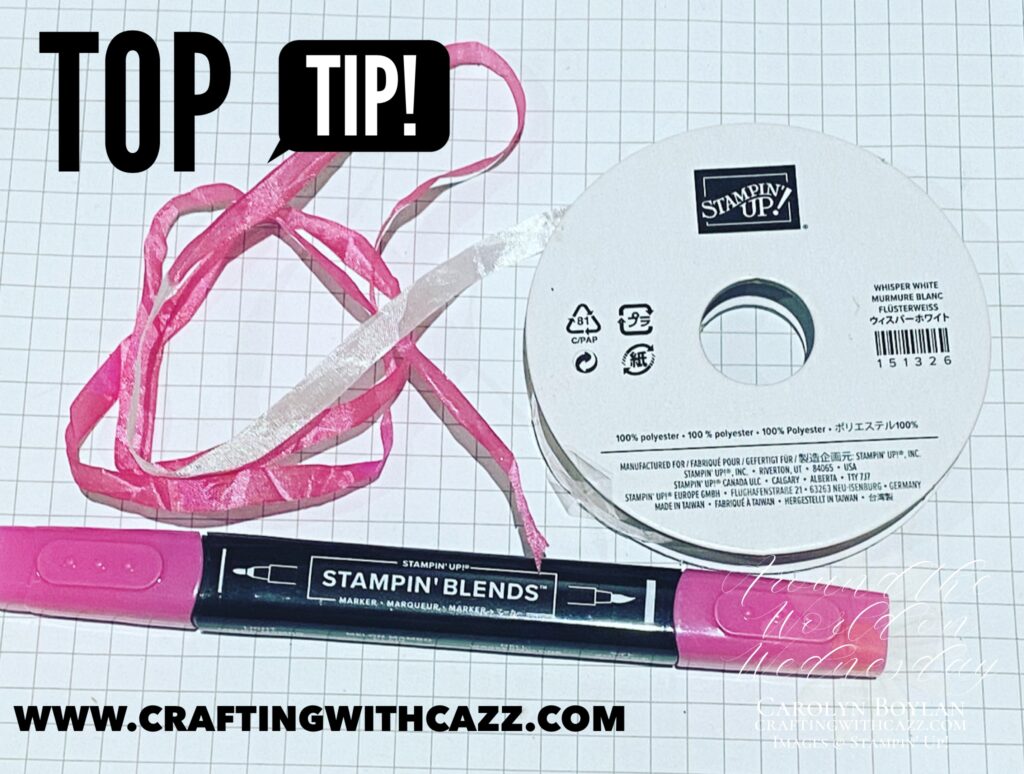 I finished off the card with some Artistry Blooms Designer Series Paper! Isn't that pop of colour just gorgeous plus its on SALE this month! How fabulous is that! Live in Australia? All products will be listed for your convenience at the end of my blog! Happy shopping!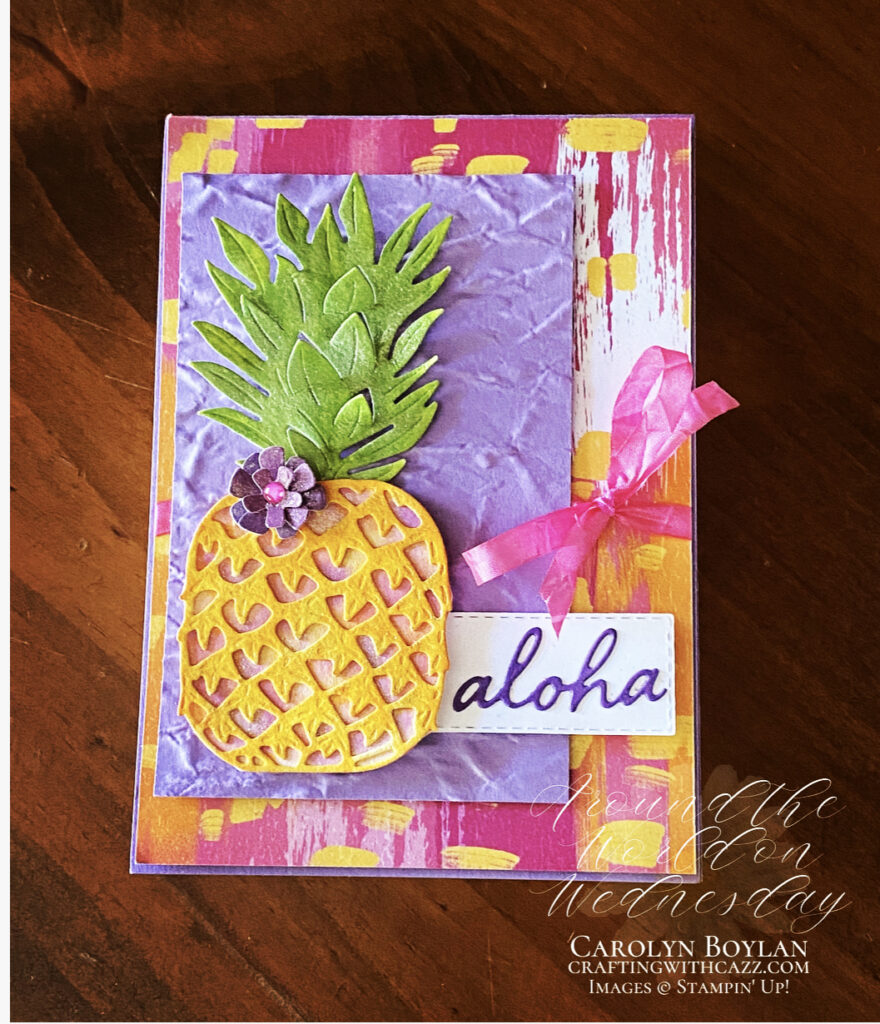 Now hop on over to my beautiful friend Cheryll Miller to see her fabulous designs.
Happy Stamping,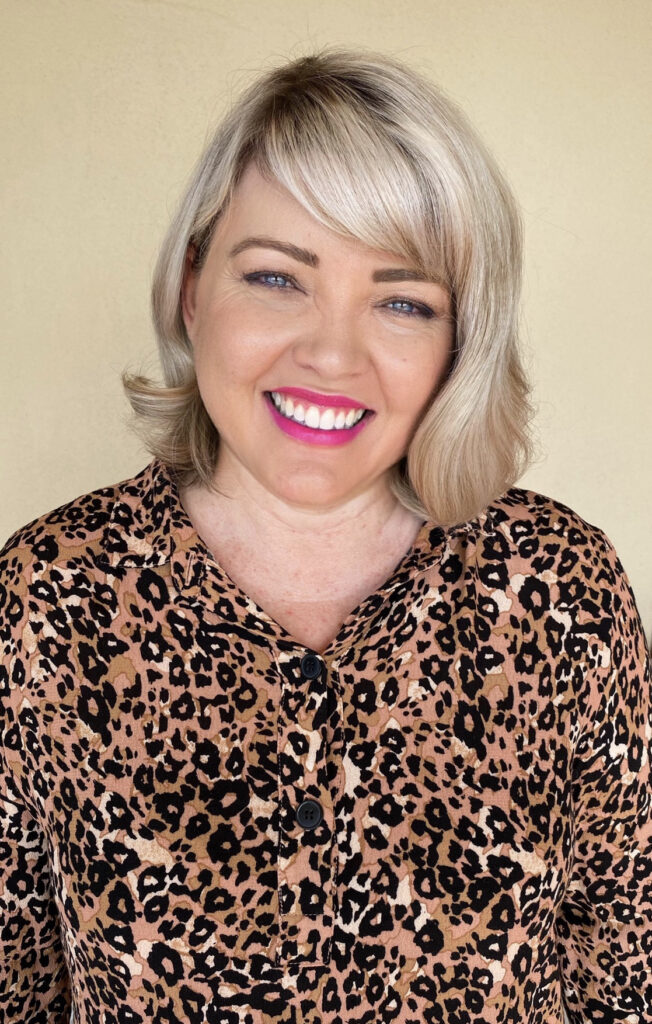 Love Cazz x
Product List
Would you like to join my beautiful team and get 20% discount off all your future purchases? How about purchase from new catalogues a month earlier then anyone else? If you would like to be a part of this exciting opportunity then Sign up here and join my beautiful team! – Join My Beautiful Team Now!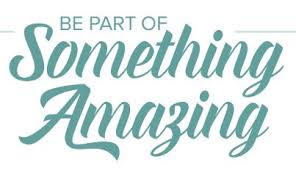 Stock up on your favourite selected Designer Series Paper and receive 15% off!
Copyright and Disclaimer Notice
All images are copyright Stampin'Up!® 1990-2022 (unless otherwise stated). All content is the sole responsibility of Cazz Boylan as an Independent Stampin'Up!® Demonstrator and the use of and content of the classes, services, or products offered on this web site is not endorsed by Stampin'Up!®. All cards and other items on this web site are for your personal use, inspiration and enjoyment only and may not be copied for publication or contest submission. Thank you x