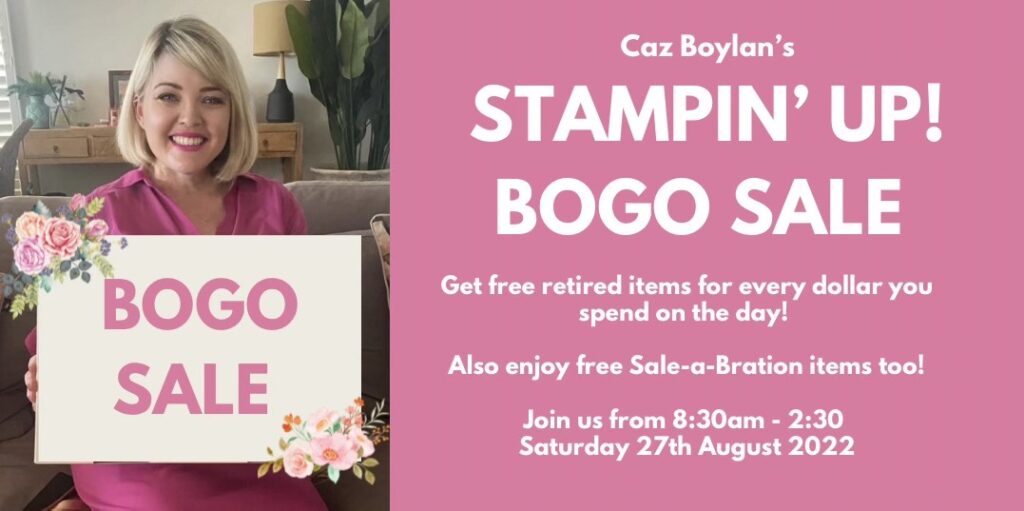 As a Stampin'Up! Demonstrator we are lucky enough to create quite the collection of Stampin'Up! goodies which I absolutely LOVE but my little craft room is now busting at the seams.
I have decided to host a BOGO sale this Saturday to make room for the orders that are already on their way! ( shh please don't tell my husband)
What is a BOGO SALE I hear you say? The easiest way to explain is where you buy NEW product from the New Annual or Holiday Catalogue in my Stampin'Up! online store using the special BOGO Hostess Code 76TTJAVG then you get to choose the equal value of my retired Stampin'Up! Products for FREE! ( Please note the hostess code is required to partake in this sale)
WANT MORE? OF COURSE YOU DO!!!
Because its Sale-a-Bration time if you spend $90 in my online store before postage and handling you will not only choose the products that you order, you will also get to choose $90 of my products FREE, PLUS you will also get to select a FREE Stampin'Up! product from the exclusive Sale-a-Bration catalogues! YIPPEE
Cant make it in person but really want some extra goodies? Shop with me using the special BOGO Hostess Code 76TTJAVG and I will contact you to work out what sort of products you would like from my stash. ( Please note local pick up or postage at your own expense x)
Some important rules and Guidelines-
I will have all of my retired products for viewing on Saturday 27th from 8.30am – 2.30pm in the comfort of my home ( please message for my address)
Choose your NEW products you would like to order from the Annual Catalogue, Holiday Catalogue or get extra bang for you buck from the Clearance Rack in my online store.
What ever your order comes to before Postage and Handling is how much you can spend from my retired items. I have so much for you to choose from!
Place your order through my online store using the special BOGO Hostess Code 76TTJAVG to the amount equivalent to your retired products ( total amount before postage and handling). All orders ( even over $150 will have the Host Code attached so I can afford to gift you my loved items in exchange for an equal order.
Please note you agree and are aware that the stamp sets, punches and dies are mostly used and you are purchasing them in "as is" condition unless stated NEW on the sets. There are no returns.
Last but not least my cherished retired product is not to be taken home until an order is placed through my online store. (There will be no exceptions to this rule)
This wouldn't be a Cazzy event with something EXTRA special!!!
For every $100 spent at my BOGO event you will automatically go into the draw to WIN a $100 Shopping spree in my online store!!! HOW AMAZING IS THAT!! – Please note Postage and handling not included in your prize.
I hope you have an amazing time at my Bogo store and get to take home lots of cherished products to add to your collection.
Any Questions? Please do not hesitate to contact me on 0421027707!
Happy Stamping,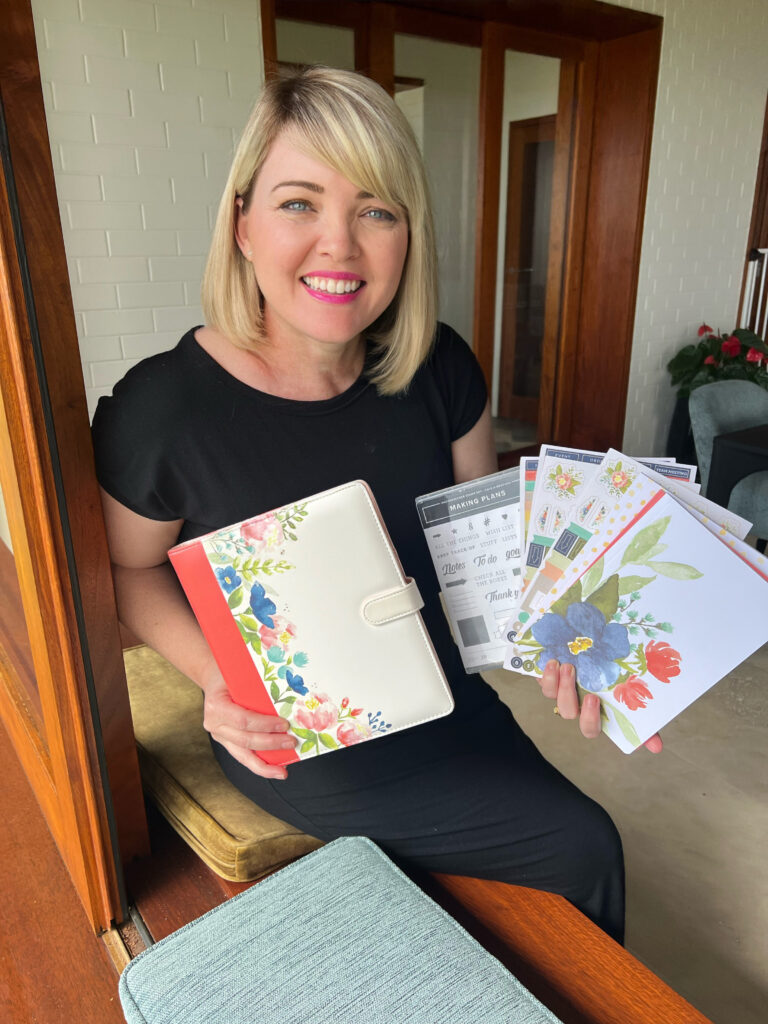 Love Cazz xo
COPYRIGHT & DISCLOSURE
All images are copyright Stampin' Up!® 1990-2022 (unless otherwise stated). All content is the sole responsibility of Cazz Boylan as an Independent Stampin' Up!® Demonstrator and the use of and content of the classes, services, or products offered on this web site is not endorsed by Stampin' Up!® All cards and items on this web site are for your personal use, inspiration and enjoyment only and may not be copied for publication or contest submission. Thank you.