At a Annual Stampin'Up! Event called Onstage I was fortunate enough to be asked to present the stunning Artfully Composed Suite to participating Stampin'Up! Demonstrators from all around the world.
This was my second time presenting for Stampin'Up! and I am still pinching myself at the incredible honour that was bestowed on me. The support I received from Stampin'Up! and my fellow Demonstrators was overwhelming.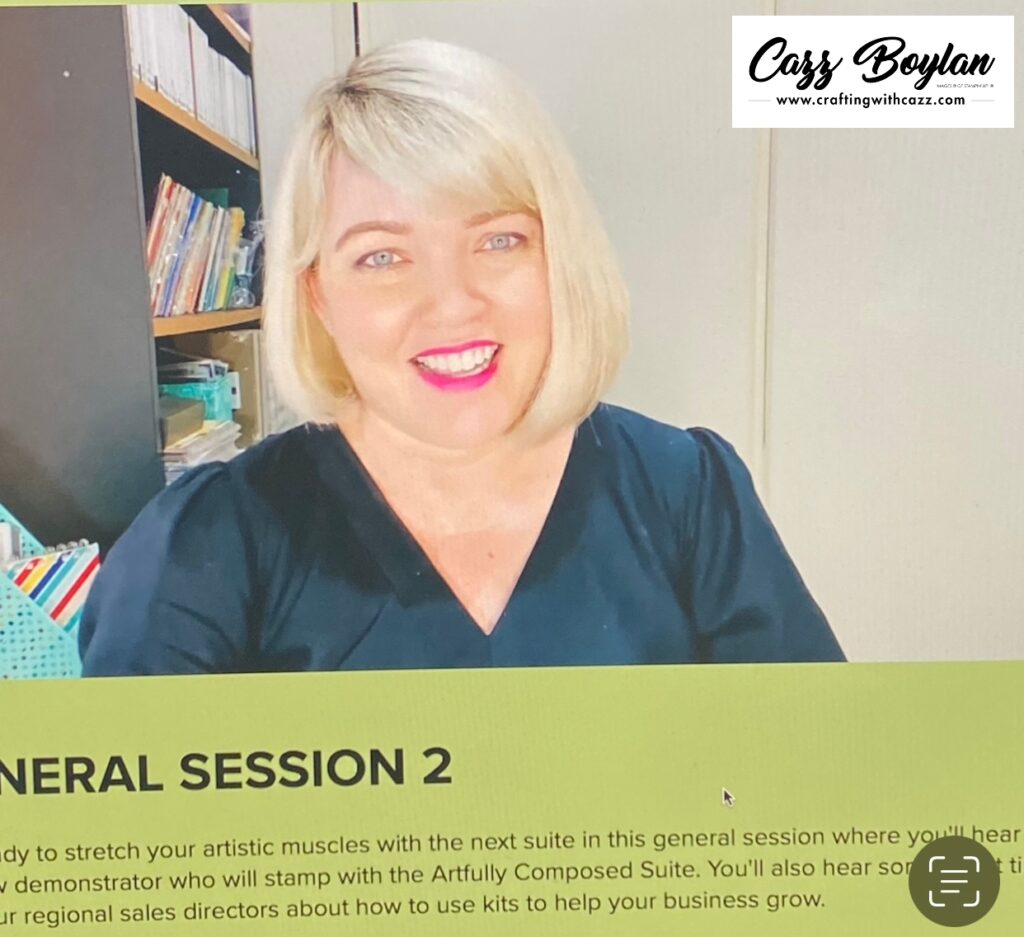 I had been very unwell leading up to the event and ended up needing surgery shortly after, so I have only just realised that I havent shared the fabulous Artfully Composed Suite and the beautiful projects I created for the presentation with you all!
So without further ado here is the fabulous Artfully Composed Suite! Add lush tropical greenery and soft vintage elements to your paper crafting with the Artfully Composed Suite Collection. The suite is designed to work together to create loose collage layers and elements. I LOVE IT and you will too!
The Artfully Composed Suite is a must have to add to your collection!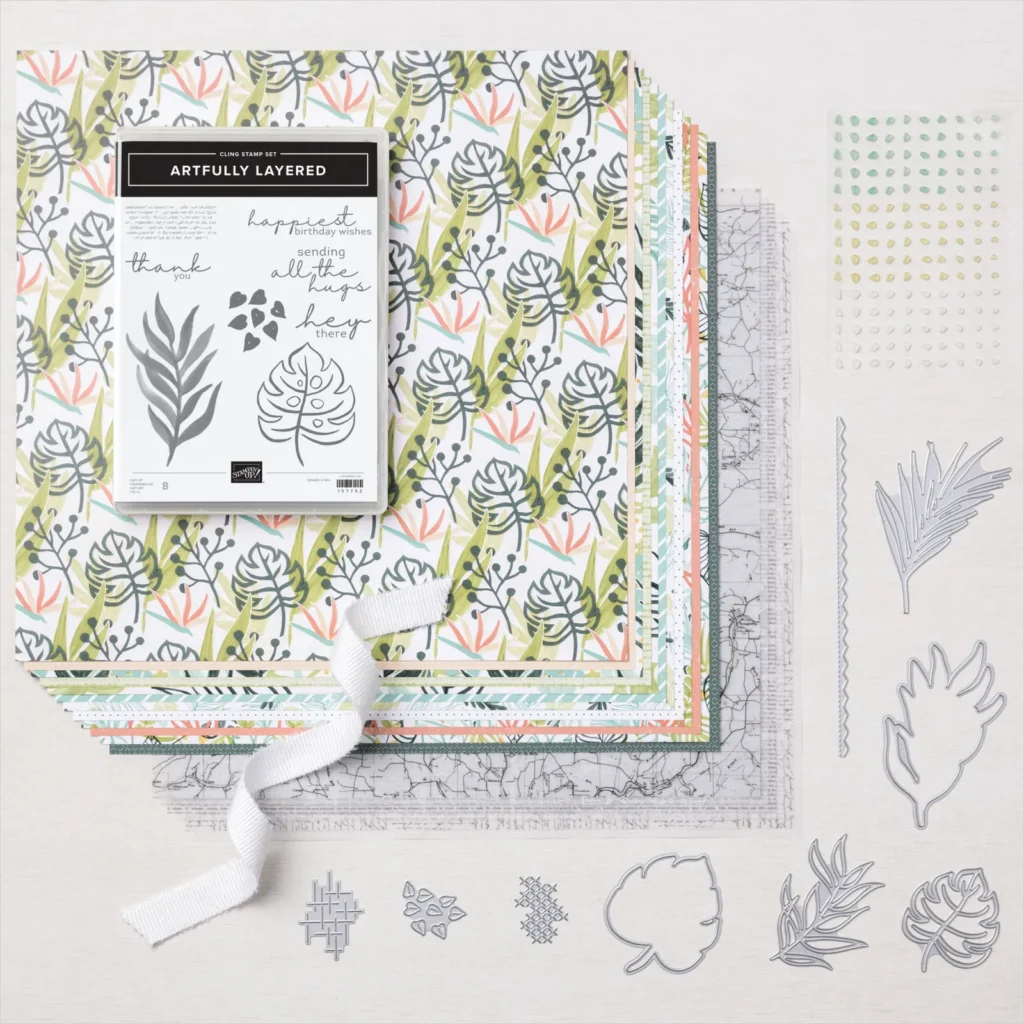 Let me share with you some of the projects I created!
Sometimes creating is just about adding ink to cardstock! This super easy card was created using the Stamp On Stamp Off Technique! Its one of my favourite techniques. All you need to do is add Ink to your stamp set and stamp onto your card front then without re inking stamp again to create a darker and lighter stamped image. I love the variation of colours tones you can create with just one Ink pad!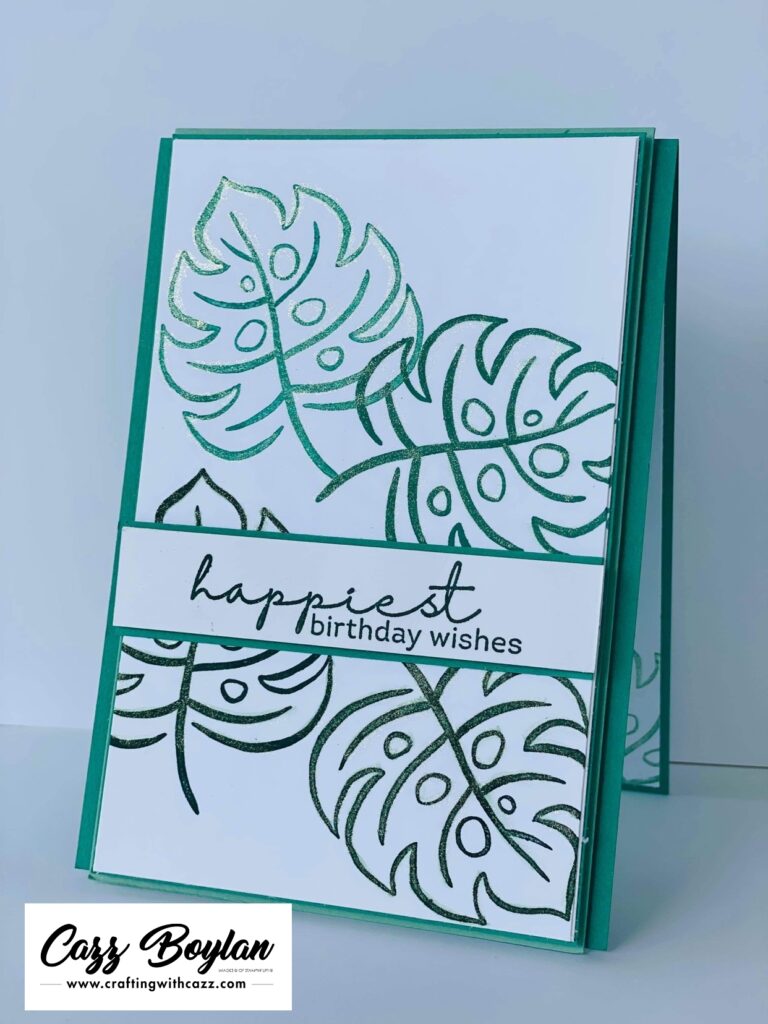 The Artfully Composed Designer Series Paper in this collection is just glorious ! Doesn't this design just pop off the page!! I've stamped the palm front directly onto the Layering Design Vellum and used a fine tip Water Painter to fix any imperfections. Just leave it to air dry before adhering it to your card front! Whatever you do don't use your heat tool to speed up the process……I learnt the hard way that vellum curls up into a little ball when heat is applied ha ha.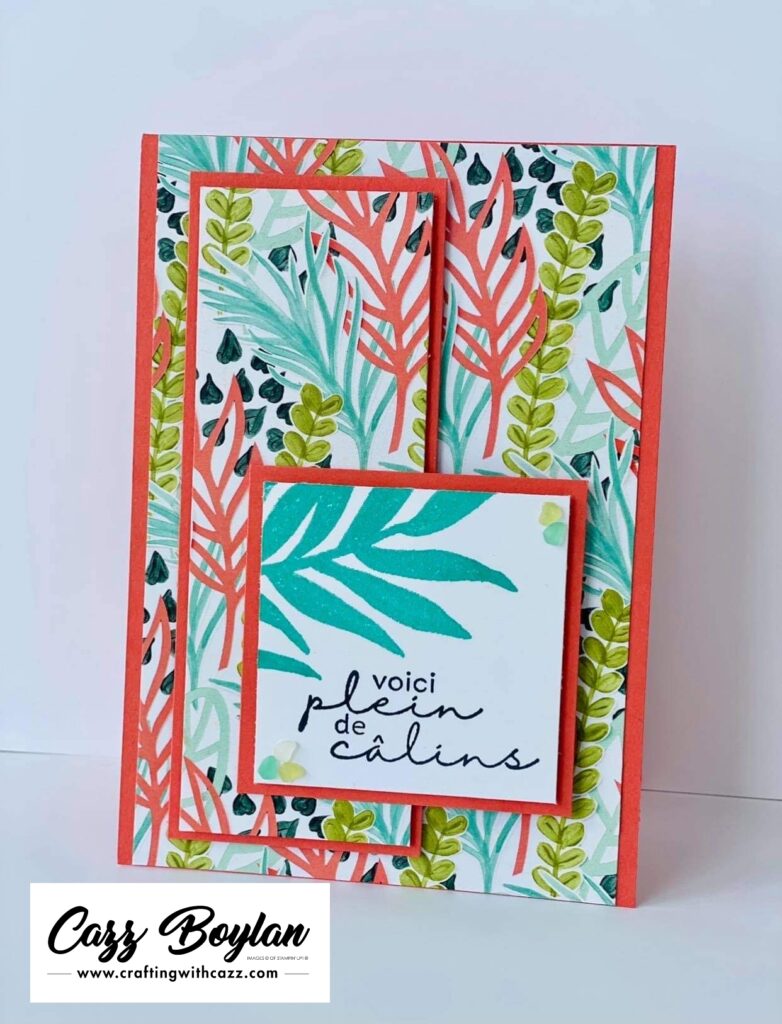 This would have to be my FAVOURITE project I created for the event! From the outside its a basic slim line card created with all those beautiful Tropical Layer Dies and soft Layering Design Vellum and then you open it up to find lots of beautiful pockets to fill with photographs, movie tickets, gift cards, cash or just notes of inspiration to be popped inside. This card is perfect to create for any occasion!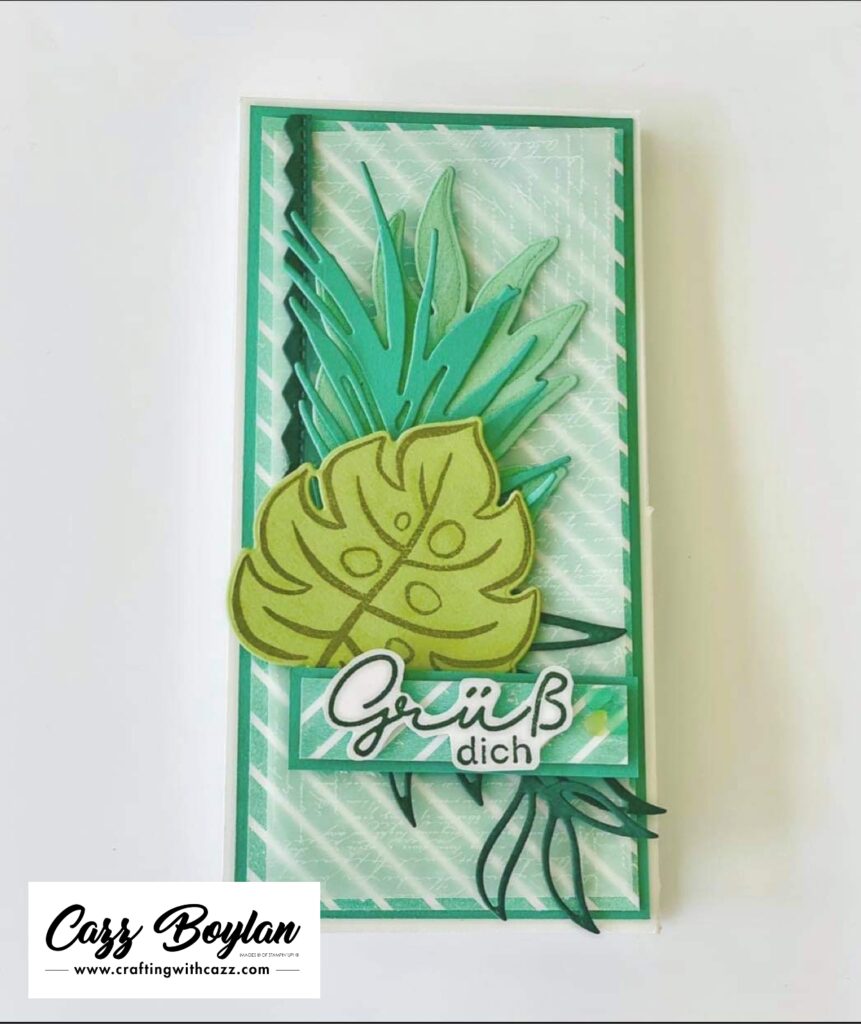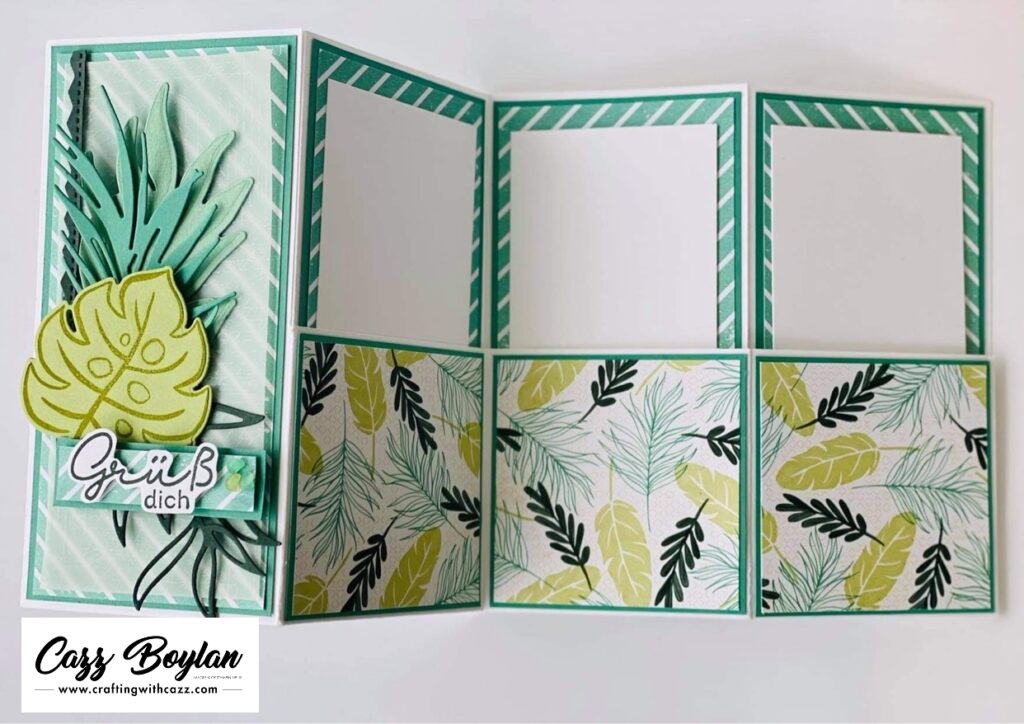 To create this next card I added a splash of Gold Embossing Powder with just one stamp to create the background! Adding embossing powder to any card can make it a showstopper!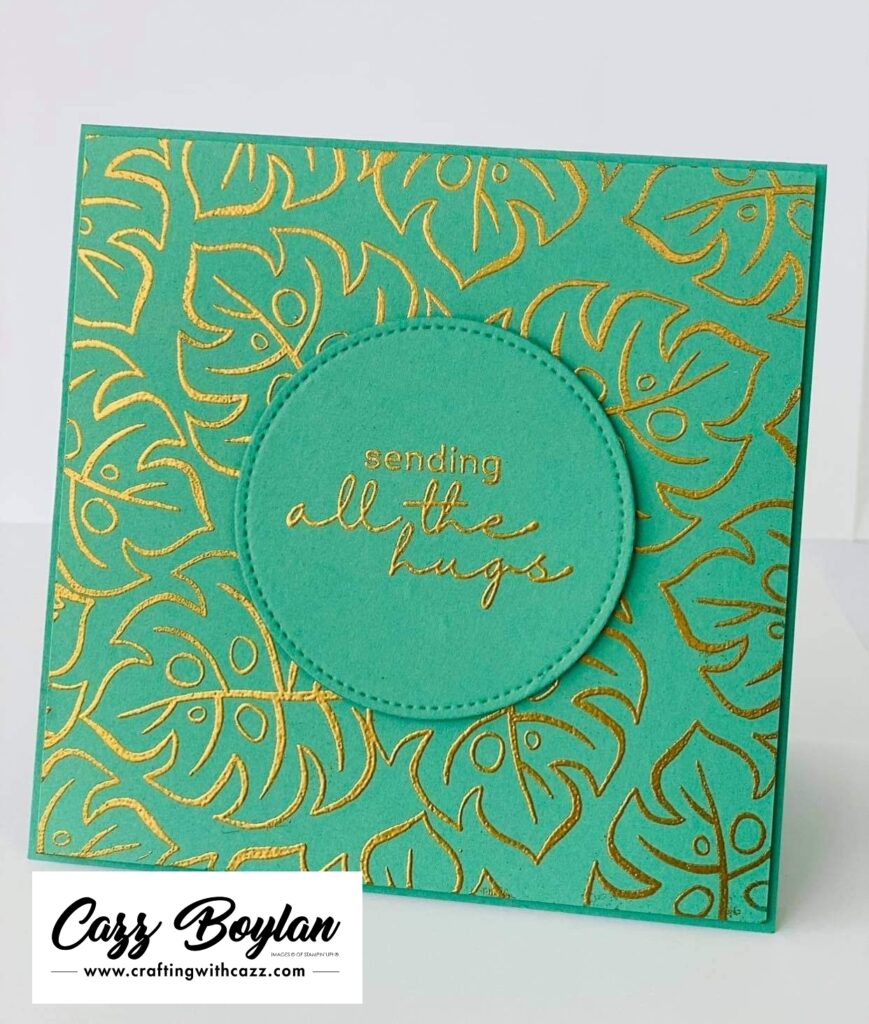 One of the main reasons I joined Stampin'Up! was how beautifully all of the products coordinate with each other! I don't have time to waste trying to find what is going to match what! Stampin'Up! takes all the guess work away for you! For example I love to gift presents in Stampin'Up! packaging, this cute little gift bag and note card I created always goes down a treat and all the products used come from this fabulous suite.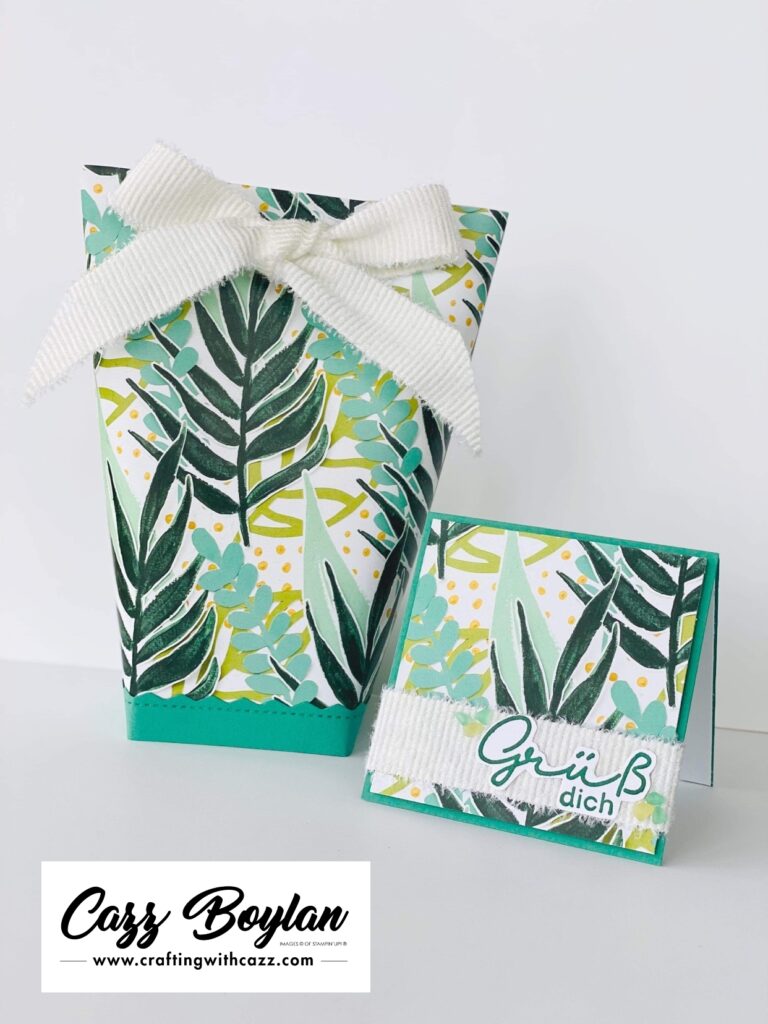 Don't the Faux Sea Glass Shapes and the 3/4″ Frayed Ribbon add a super cute detail to this Monstera pot. They are fabulous for adding a textural addition to any card front or project.
Its a little hard to tell by the photo but this Monstera plant card was created in 3D and both the pot and plant popped off the card. I used a Stampin'Up! Bone folder to lift and curl the Monstera Die and then adhered them with multiple layers of Dimensionals to the card front. I loved how this card turned out.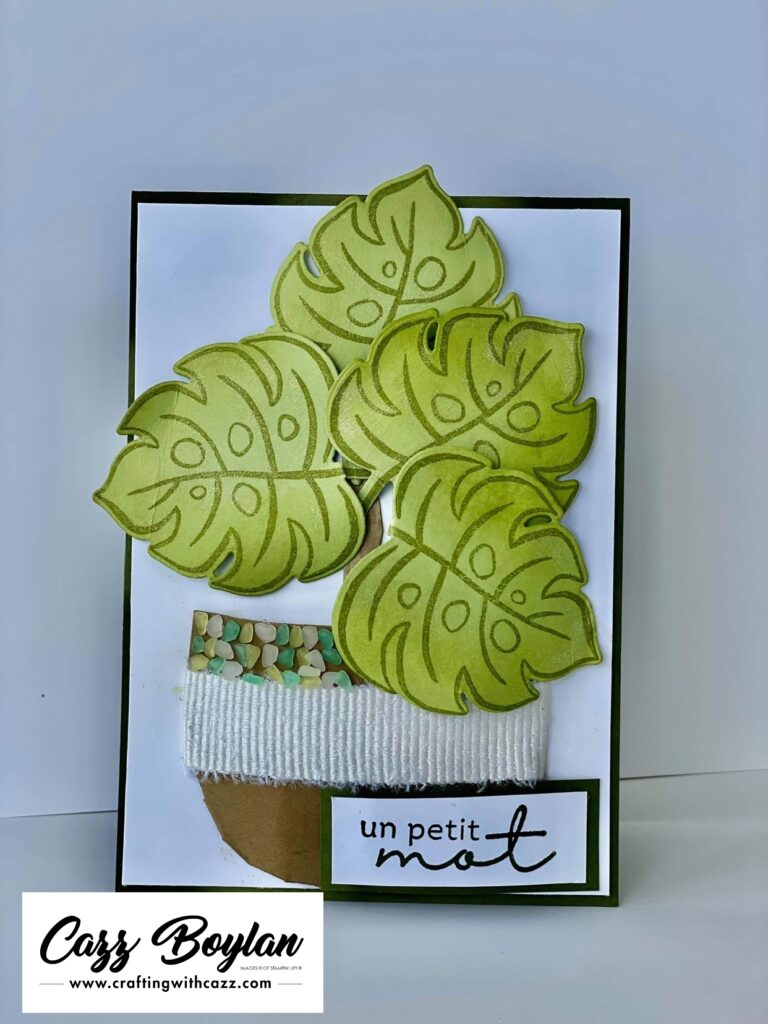 Now I can not forget my all my beautiful scrapbooking customers! This page is rather special as I used almost every element of the Suite to create it!
The Tropical Layer Dies are just fabulous to create with and I adore how it came together.
My models are my baby sister Suellen and her youngest son Gabriel. Isn't he the sweetest?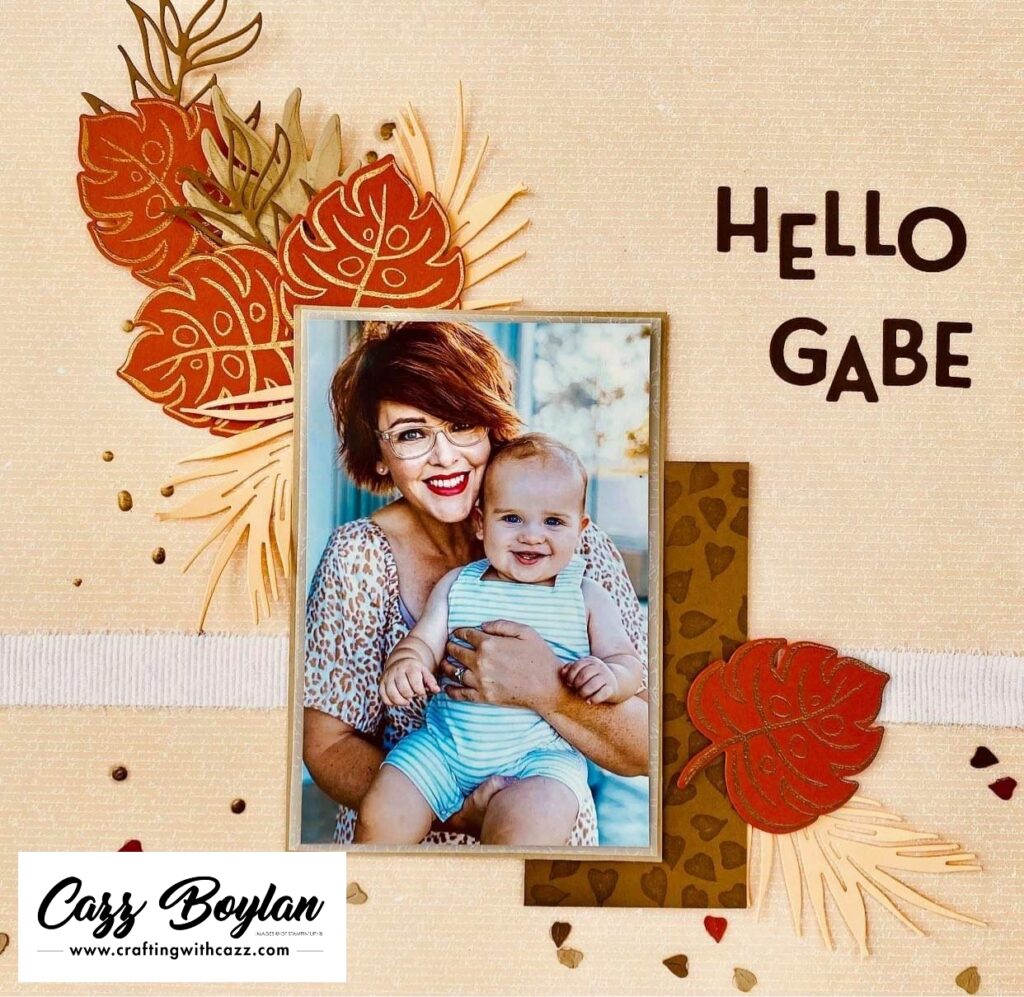 Last but not least – Creating 3D projects and cards make this little crafters heart happy!
This beautiful card has a window created with the rectangle dies and then backed with the glorious Layering Design Vellum. It folds flat for posting and just needs a battery operated tea light to make the window light up and those beautiful Monstera leaves come to life.
A little tip the monstera leaves are actually the inside piece of the monstera die and I attached the Adhesive Sheets to the Artfully Composed DSP to make them easier to attach to the vellum. Aren't they a gorgeous addition to the card front?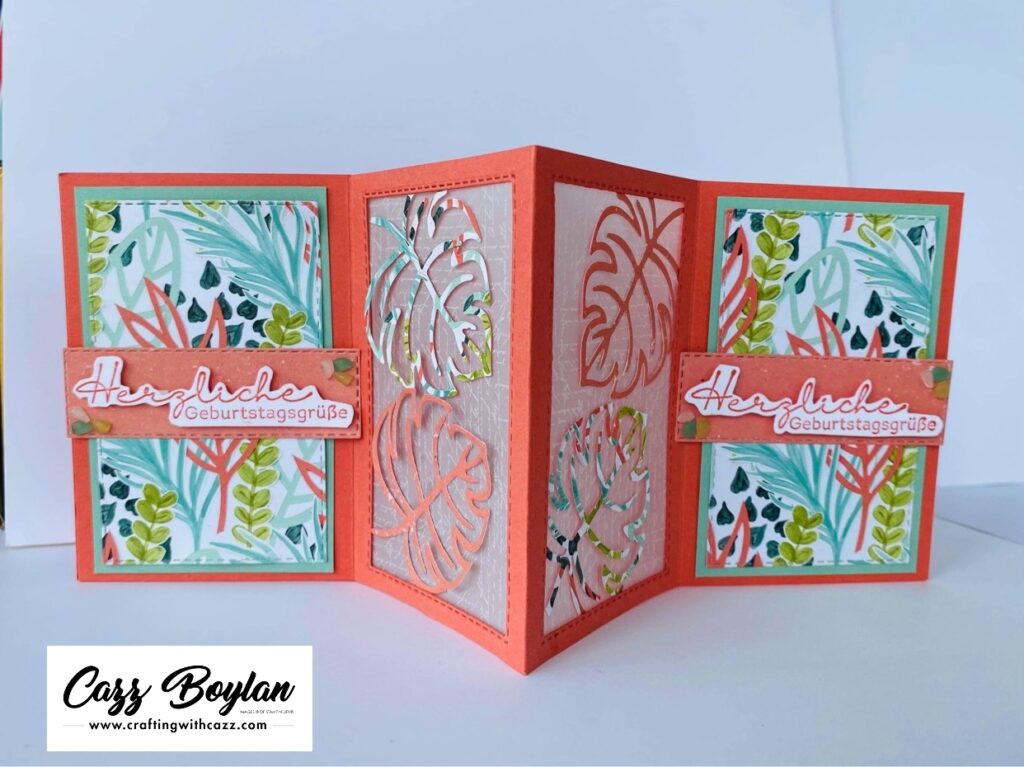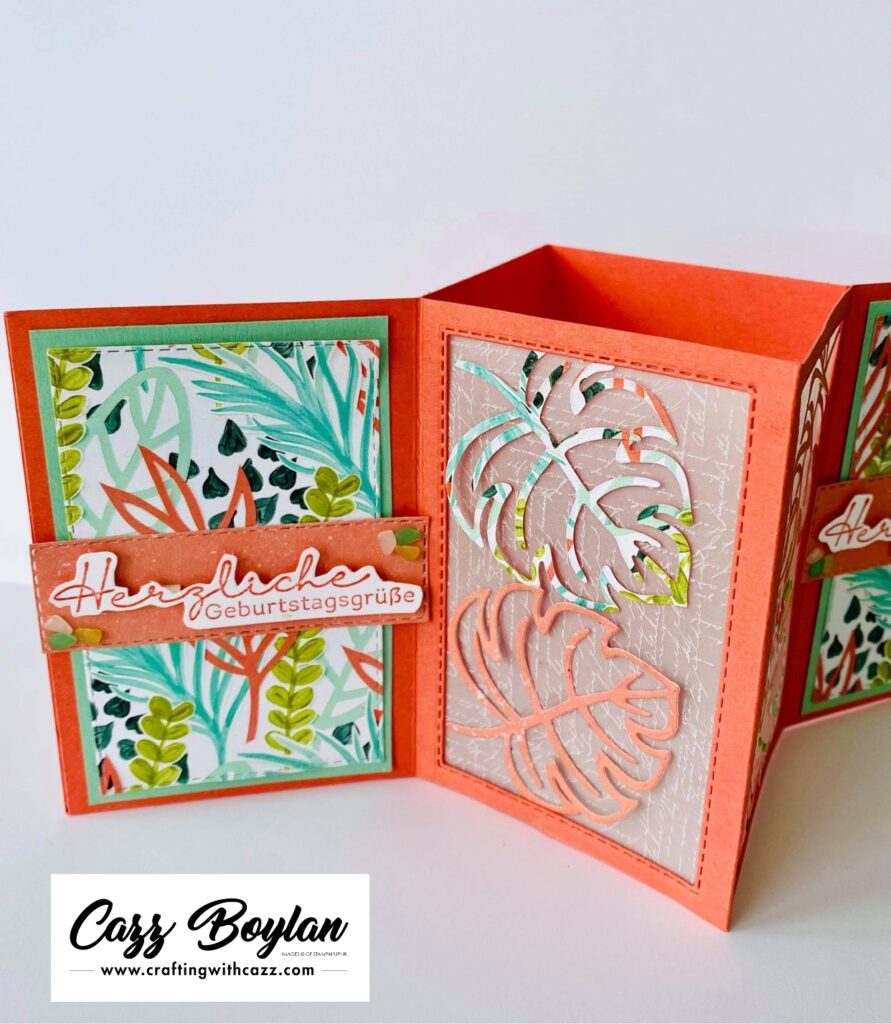 Don't forget you can use Stampin'Up! in all aspects of your life! Heres a gorgeous table setting including matching Menu, Napkin ring and wine glass charms all created with this beautiful suite!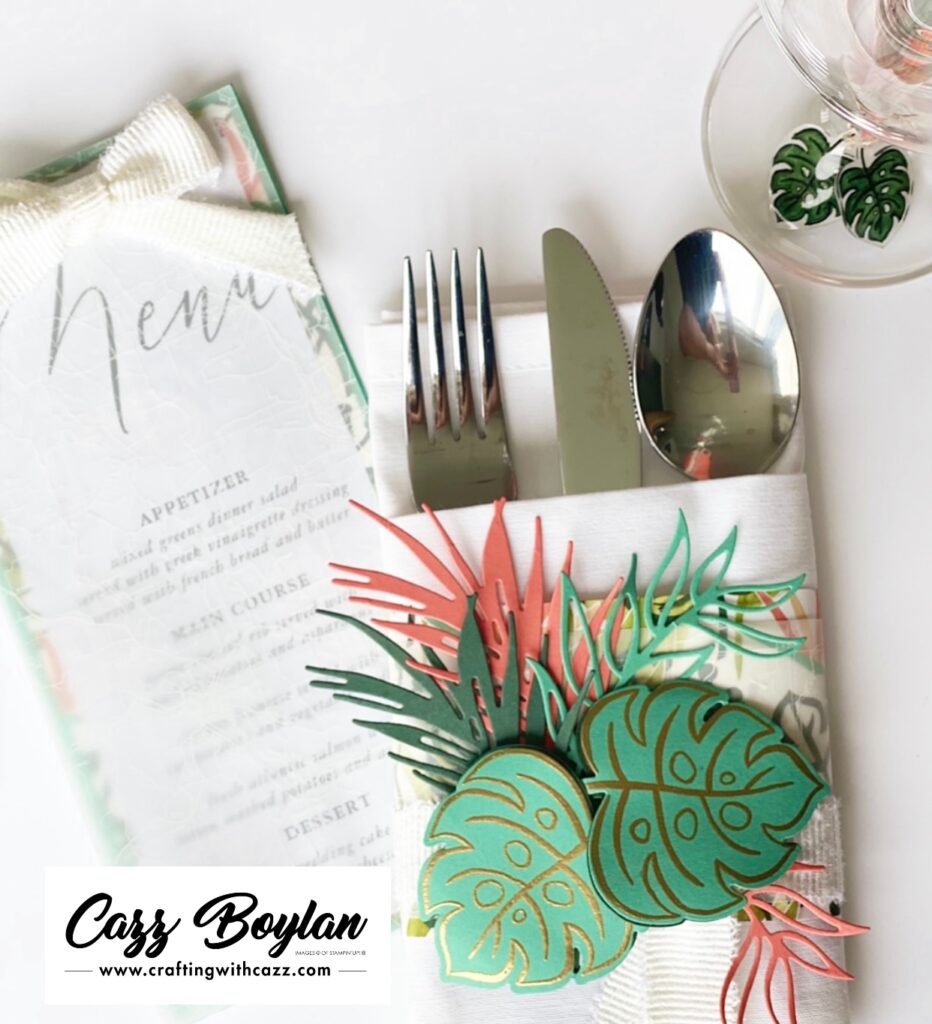 I hope you have enjoyed the beautiful Artfully Composed Suite and all the beautiful projects I have created. For your shopping convenience I have listed all the beautiful products used in my projects below so you can purchase the entire Artfully Composed Suite or any of the elements of the collection that you have fallen in love with!
Either way you are going to LOVE adding this suite to your collection and creating with it over and over again.
Happy Stamping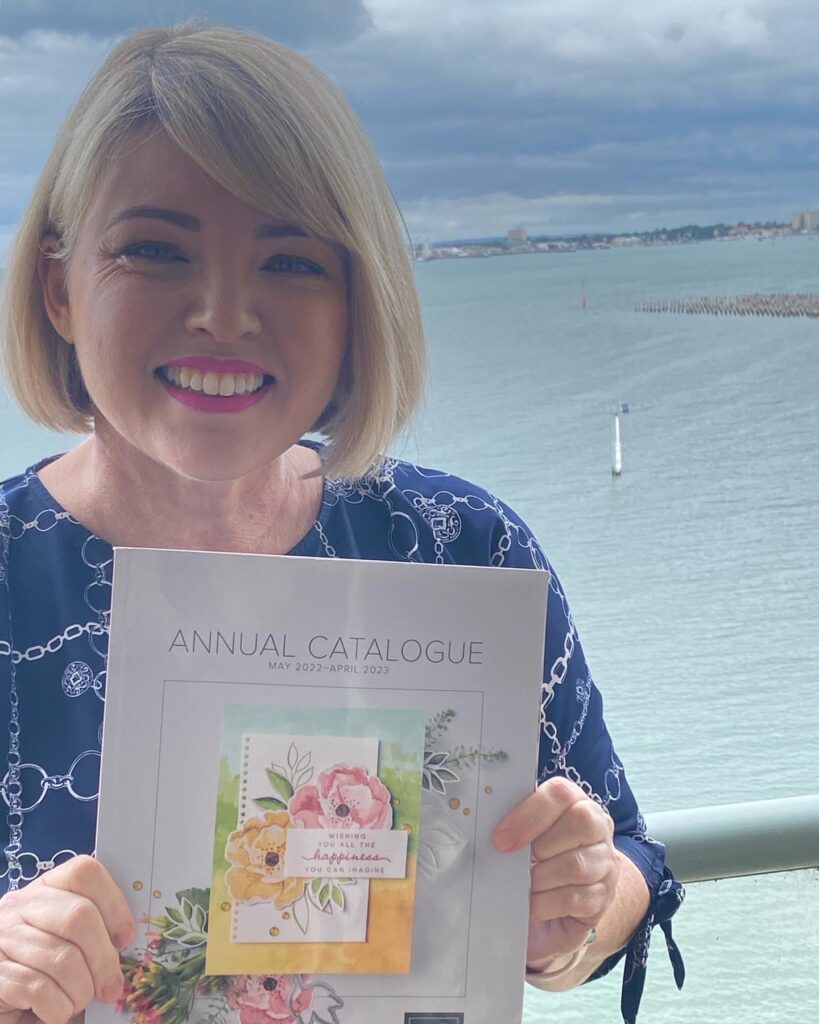 Love Cazz x
Ps A FABULOUS new Annual Catalogue is coming out next month so if you havent been added to my mailing list then please let me know as they will be sent out this week! Love Cazz x
Would you like to join my beautiful team and get 20% discount off all your future purchases? How about purchase from new catalogues a month earlier then anyone else? If you would like to be a part of this exciting opportunity then Sign up here and join my AMAZING team! – Join My Beautiful Team today! or contact me to discuss what option is best for you x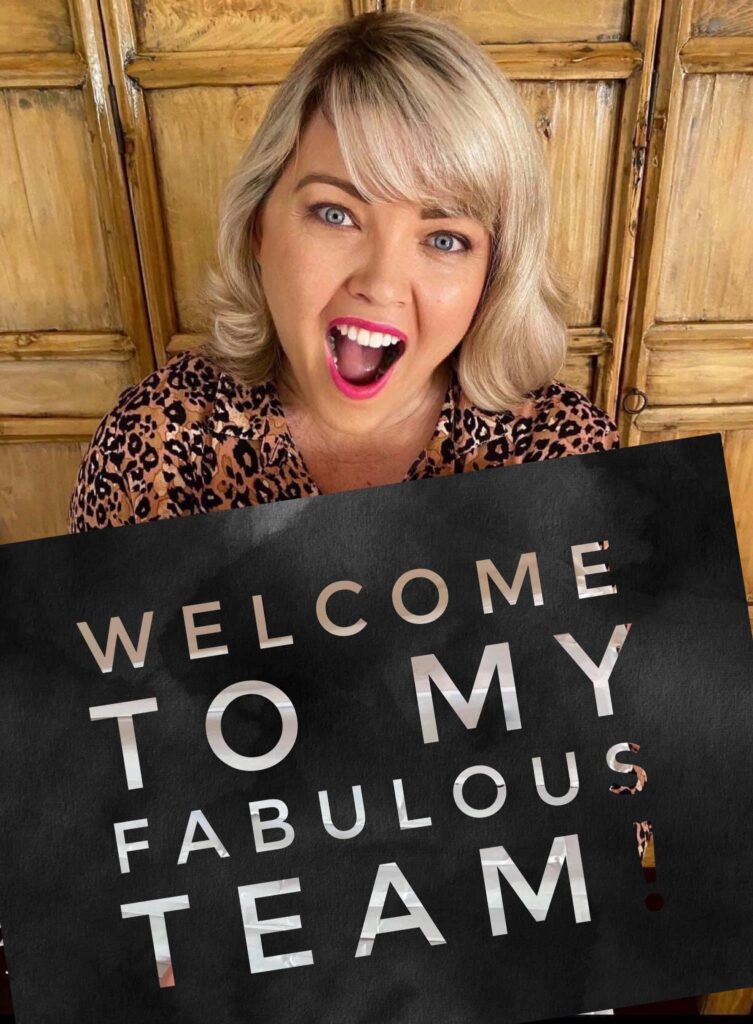 Product List
Copyright and Disclaimer Notice
All images are copyright Stampin' Up!® 1990-2021 (unless otherwise stated). All content is the sole responsibility of Cazz Boylan as an Independent Stampin' Up!® Demonstrator and the use of and content of the classes, services, or products offered on this web site is not endorsed by Stampin' Up!® All cards and items on this web site are for your personal use, inspiration and enjoyment only and may not be copied for publication or contest submission. Thank you.